AC Motor Brush Holder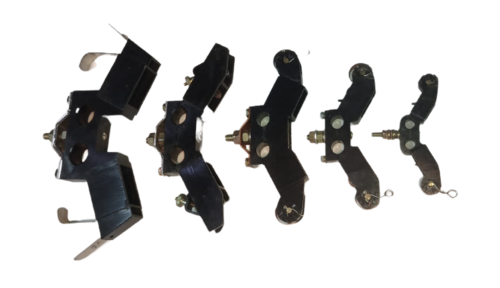 AC Motor Brush Holder
Price And Quantity
Product Specifications
AC Motor Brush Holder

For Lightning Protection
20-50 Grams (g)

AS Manufacturing Defult
Product Description
AC Motor Brush Holder
Our Brush Holder is designed to have excellent characteristics and meet various industrial applications. It is applicable in traction, lifting & pump motors, and industries like mining, metallurgy, plastic, aerospace, marine, forklifts and elevators etc. The holder is rugged, reliable and easily installable.
Our DC Motor brush holder is electrical contact that makes a contact with a movable surface. Ideal execution on generators, engines and different sorts of moving connection uses will be achieved just at the point, the brush holder, the carbon brush and the connection surface are legitimately outlined and handled. Every one of the three parts are important variables in a complicated electro-mechanical arrangement.

The DC Motor brush holder grips the brush as to the brush can work appropriately. Holders offer stable reinforcement in the best possible place in association to the connection surface as well as regularly offer the way to use of the connection pressure on the brush.

The most imperative variables are:

Most Extreme Firmness In The Holder

Appropriate Placing Of The Brush On Surface Of The Connection

Least Resistance Through The Holder And Brush Part Of Electrical Circuit.



Holder Size Dimensions
The fitting of the brush carbon part in the holder is important for firm electrical connection. On the off chance that there is deficient space between the brush width & thickness and the holder walls, there is possibility for brush fastening in the holder especially with expanded contamination as well as temperature. Then again, an overabundance measure of space between the carbon and the holder will bring about an insecure electrical connection as the brush side can move axially or tangentially in the holder.

Over a long stretch of use the thickness measurement on a holder can wind up plainly worn from brush development or damaged from thermal. Along these lines, it is critical to occasionally gauge the width dimensions and thickness on the bottom as well as top of the holders to guarantee they are in resistance and in addition, as to ensure the brush will possess satisfactory bolster for a steady electrical connection.

Holder Position

The position of the holder will decide the brush area on the unstable connection surface. Moreover, for slip ring uses, the holders are generally situated over the top segment of ring for simple entry. In this place the load of the brush adds to the connection pressure. On the off chance that holders are attached on the bottom of a connection surface then extra spring pressure might be important to adjust for the load of the brush.

On DC rigs with commutators correct placing of holders in connection to the area poles is important. The brushes ought to be similarly separated over the commutator. This dividing can be inspected by covering a paper tape over the commutator, denoting the area of a similar edge of every brush as well as afterward measuring the gap between imprints on the paper.

Holder Angle
The most well-known angle for holder to mount is 0 degrees, which implies, opposite to the connection surface. Most reversing commutator and slip rings uses make utilization of this alleged spiral mount. The points of interest are simplicity of holder introduction, most extreme spring pressure exchanged to the connection surface, and in addition, reasonable dependability of brush connection over reversal of direction.

The main variables to inspect for complete working of the brush and holder are:

Inside Holder Measurements

Holder Spacing

Holder Angle

Holder Length

Spring Pressure

Electrical Contacts
Trade Information
Cash Advance (CA), Cash in Advance (CID), Telegraphic Transfer (T/T), Cheque

1 Per Day